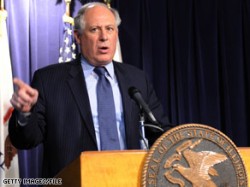 Governor Pat Quinn announced $30.5 million from the capital program to build and renovate 14 community health centers throughout Illinois. The press conference was held at the Lawndale Christian Health Center's newest site, currently under construction at 3700 W. Ogden between Ridgeway and Hamlin Avenues late last month. "These capital funds are critical in helping us increase community-based health care," Governor Quinn said. "We are investing in the health and wellness of the people of Illinois, and these community health centers reflect the emphasis I have placed on helping people get the care they need as close to where they live and work as possible."
The Community Health Center Construction Act, sponsored by Sen. James F. Clayborne Jr. (D-Belleville) and Rep. Sara Feigenholtz (D-Chicago), was signed into law by Governor Quinn in 2009. The Act enables communities to renovate dilapidated buildings, convert vacant commercial space, construct new health center sites, and provide equipment for additional health services such as OB/GYN and dental. Lawndale Christian Health Center's new construction is a 60,000 square foot building that will serve as a place where residents on Chicago's Westside can seek medical care and engage in activities designed to improve their health.
"As we enter the final phase of the project, the $3 million grant will get us closer to topping our $22M capital fundraising needs. We will be able to end the project with confidence that we are closer to our goal and bring this wonderful building to a community that has had very little new construction over the last forty years," said LCHC CEO Bruce Miller.