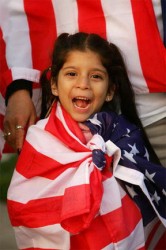 Como todos, los hispanos esperan lograr el Sueño Americano. Sin embargo, de acuerdo a un estudio hecho a nivel nacional, en la serie Estado de las Familias Americanas (MassMutual) de Massachusetts Mutual Life Insurance Company, conducido por Forbes Consulting Group, el 39 por ciento de los hispanos creen que el Sueño Americano está desapareciendo. Ya sea que se trate de enviar a un hijo al colegio, ahorrar para retirarse cómodamente o cuidar de los padres ancianos, lo difícil de la época y las diferentes prioridades están haciendo cada vez más difícil para el consumidor hispano hacer el Sueño Americano una realidad.
Considere estos hallazgos de los hispanos encuestados en el estudio State of the American Family:
El veintiocho por ciento siente que deberían estar ahorrando más para el futuro, pero en este momento están solo luchando por salir adelante.
El veintiseis por ciento desearían tener un mayor control de sus finanzas.
El dieciocho por ciento dice que el limitado acceso al crédito le hace más difícil alcanzar sus metas financieras.
El treinta y tres por ciento dice que su situación financiera en la causa número uno del estrés en su vida.
Sin embargo, con un plan firme, los consumidores pueden aún hacer de su Sueño Americano una realidad. Por eso es importante que todo el que tenga una meta financiera empiece ahora mismo, sea agresivo y establezca una fundación para patrocinar sus sueños. Aquí algunos consejos de MassMutual sobre como comenzar a crear una base más firme para el futuro.
Evalúen usted y su familia juntos sus metas financieras y prioridades – Muchas veces las familias saben lo que tienen que hacer, pero todavía no tienen un plan realístico y firme. Para lograrlo, establezca prioridades, considerando las metas y necesidades de la familia entera y estableciendo una estrategia a corto y largo plazo.
Establezca un plan de ahorros para ahora y para el futuro – Un ingreso limitado no tiene que ser barrera para lograr nuestras metas financieras. Un cuidadoso examen del presupuesto familiar puede identificar áreas donde cortes, relativamente insignificantes, pueden liberar fondos para los ahorros. O evalúen las destrezas e intereses que puedan ayudarle a tener un ingreso adicional para suplementar sus planes a largo plazo.
Busque información financiera – Este es el momento de aprender sobre los servicios y productos financieros a largo plazo que puedan ayudarnos para asegurar nuestro futuro. Aunque muchos hispanos desearían que sus padres les hubieran enseñado más sobre finanzas, la oportunidad de aprender existe aún. Una forma de aprender es acudir a un taller financiero en su comunidad o trabajar con un profesional de servicios financieros experimentado.