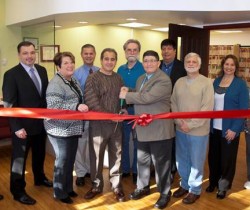 The Berwyn Development Corporation (BDC) and City of Berwyn were pleased to partake in the ribbon-cutting celebration for Total Care Medical Clinic on December 1, 2011. The event celebrated the Grand Opening and completion of interior improvements to the storefront for Total Medical Care Clinic, a medical facility that provides family medicine and addiction medicine services, located at 6929 W Ogden Avenue.
Through the support of the City of Berwyn and the BDC, the project received Tax Increment Financing (TIF) for interior improvements, including demolition, framing, masonry, plumbing, electrical, HVAC, windows, doors, ceiling and fire systems. Dr. Leonard M. Spishakoff, MD, DABFP had been in business for over 14 years at 6425 Cermak Road and desired to purchase his own commercial space and relocate within Berwyn. The acquisition and resultant interior build out resulted in the retention of a long-standing Berwyn business and seven jobs.
Additional information on the Total Care Medical Center Grand Opening can be obtained through the Berwyn Development Corporation at (708) 788-8100 or visit www.berwyn.net.