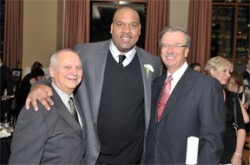 Some of Chicago's best-known professional athletes took center stage to receive honors at the 24th annual "Comcast SportsNet Sports Awards" presented by Navistar to benefit the March of Dimes. The dinner was held on Monday, Feb. 13th at the Sheraton Chicago Hotel and Towers, and emceed by Chicago broadcasting legend Steve Dahl.
This year's honorees included Carlos Boozer of the Bulls, Corey Crawford of the Blackhawks, Kerry Wood of the Cubs, Alexei Ramirez of the White Sox, Earl Bennett of the Bears, and Logan Pause of the Fire. In addition, Blackhawks legend/Hockey Hall of Famer/team Ambassador Tony Esposito was this year's "Lifetime Achievement Award" recipient.
Each year, the March of Dimes also highlights an "Inspirational Athlete" recipient. This year's "Chicagoland Speedway Inspirational Athlete" award winner was Tywaun Crain from Chicago's southwest side. Tywaun is a 16-year-old who was born with cerebral palsy, whose perseverance and passion for adapted sports helped earn him the title. To date, the "Comcast SportsNet Sports Awards" has raised close to $9 million for the March of Dimes over the past two-plus decades with the goal of raising even more for this wonderful organization in the years to come.