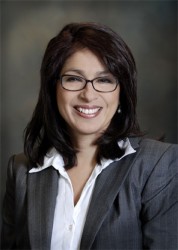 State Representative Elizabeth "Lisa" Hernandez (D-Cicero) is inviting all fourth through eighth grade students in her district to participate in a writing contest to share their views on the importance of keeping their teeth clean and healthy.
Hernandez's 4th Annual Dental Health Month Writing Contest asks students to write an essay or a poem explaining the importance of maintaining good dental health in their own words and it must include or start with "my smile is important because." Writers must fill out an application along with their essay, which can be picked up and dropped off at Hernandez's office at 2137 S. Lombard, Suite 205 in Chicago. The applications are due on February 24 by 5:00 P.M. and the top three entries will be chosen from each age range of intermediate (4-6 grade) students and junior high (7-8) students.
For more information on the Dental Writing Contest or to request that an application be mailed to you, please contact Rep. Hernandez's full-time constituent service office at (708) 222-5240. You can also visit her office located at 2137 S. Lombard, Suite 205, Cicero, IL 60804 to pick up a copy of the application.