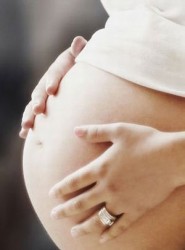 Are you pregnant or thinking about having a baby? SAINT Anthony Hospital provides comprehensive Maternity Care. For those who think they might be pregnant, we offer FREE pregnancy tests in a confidential and safe environment at variety of our clinic locations throughout the community. If you are pregnant and need a physician…
In addition, the hospital offers FREE prenatal classes on the following topics:
Prenatal Care and What to Expect During Pregnancy
Maintaining a Healthy Pregnancy
Preparing for Labor and Birth
The Birth of Your Baby
Postpartum Care and Infant Feeding
Infant Care and Safety
Please call 773-484-4777 for further details – we will connect you location that is closest to you. Are you a first time mom? Saint Anthony Hospital's Community Wellness Program offers a weekly support group for moms. The group provides a safe space to share and spend time with your newborn and other moms, as well as discuss topics such as colics, feeding, and sleeping habits. The group meets each Tuesday from 9-11 am at Saint Anthony Hospital.