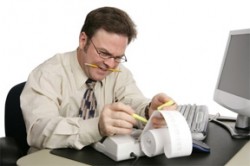 If you've been thinking about getting into the field of accounting and have earned your associate degree, now is the perfect time to continue your studies at DeVry University. Employment of accountants and auditors is expected to grow by 22% between 2008 and 2018, which is faster than average for all occupations.
Whether you're interested in a career in financial management, budget analysis, or purchasing, DeVry University can prepare you with the skills and knowledge to help you succeed.
We offer a range of degree programs with an accounting specializations:
Bachelor's in Business Administeration
Bachelor's in Management
Bachelor's in Technical Management
Get on the path to a successful career in accounting today. Take the next step toward earning your bachelor's degree. Request a transfer evaluation or visit devry.edu/college-transfer for more information.