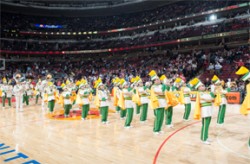 Recientemente, la Asociación de Dueños-Operadores Hispanos de McDonald's (MHOA) se unieron una vez más a los Chicago Bulls para presentar la Noche Latina en reconocimiento de la comunidad hispana y su rica herencia cultural. Este espectacular evento familiar con entretenimiento latino, Los primeros 5,000 fanáticos recibieron un cupón para una bebida McCafé gratis cortesía de la Asociación de Dueños-Operadores Hispanos de McDonald's.
Como en años anteriores, MHOA seleccionó un grupo de 8 organizaciones que año tras año trabajan incansablemente en pro del mejoramiento de nuestra comunidad para recibir boletos para esta Noche Latina. Esta donación por valor de casi $7,200 se hizo con el fin de compartir con ellas la diversión y alegría de esta noche. John DeCarrier, dueño/operador en representación de la MHOA hizo entrega de esta contribución a las siguientes organizaciones: Aspira, Association House, Back of the Yards Neighborhood Council, Casa Central, Enlace Chicago, Erie Neighborhood House, Mujeres Latinas en Acción y Spanish Center.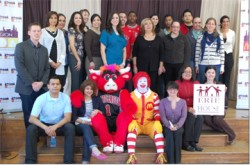 Este año, además, MHOA invitó a dos bandas de secundarias locales, Clemente y Kelly para que formaran parte del entretenimiento durante "half-time" las cuales recibieron una donación de parte de MHOA. La participación de las bandas fue muy bien recibida por el público no solamente por sus habilidades sino por las contribuciones que las mismas hacen a sus respectivas comunidades.