New Store Location Offers Consumers Experience Unlike That of Any Other Wireless Provider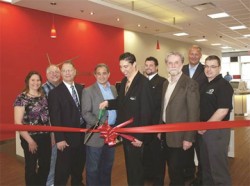 To bring the nation's most reliable wireless network to even more customers, Verizon Wireless has opened a new store location in Berwyn, Ill., at 7160 W Cermak Road. A ribbon-cutting ceremony was held on Friday, March 23 with the City of Berwyn and the Berwyn Development Corporation (BDC). This Verizon Wireless store offers consumers a high-tech, hands-on experience, providing them with the latest and most innovative products and services.
"Wireless technology is ever evolving and consumers are more in-tune with the industry than ever before," said T.J. Fox, region president, Verizon Wireless. "This new location and creative store design puts customers in the driver's seat and enables them to experience our latest technology firsthand—a shopping experience currently not offered by any other wireless provider." Mayor Robert Lovero stated, "Verizon Wireless is a great fit for this corner on Cermak Road and the City of Berwyn. Their line of Apple and Droid products has been a plus for our community."
The Verizon Wireless Communications Store in Berwyn is open Monday through Saturday 9 a.m.-8 p.m., and Sunday from 11 a.m.-6 p.m. The store's phone number is 708-484-3491.