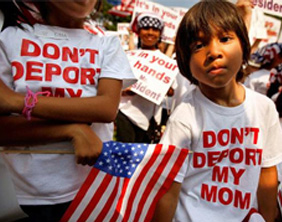 El Representante de E.U. Jessse Jackson Jr., el Representante Estatal Eddie Acevedo, el Concejal Proco "Joe" Moreno, la Representante Elizabeth Hernández, líderes religiosos y comunitarios y residentes del suburbio del sur Crete, sostuvieron una conferencia de prensa para denunciar la posible construcción del centro de detención de inmigración privatizado en Crete, Illinois y envió un claro mensaje a Corrections Corporation of America – Illinois no es Arizona.
Corrections Corporation of America (CCA) el más conocido constructor y operador de prisiones privadas de la nación, ha señalado la villa de Crete, suburbio del sur, como el sitio para un nuevo centro de detención, para albergar a 788 detenidos de inmigración federal. Por medio de su asociación con el Comité de Intercambio Legislativo Estadounidense (ALEC), CCA fue también instrumento clave en el desarrollo de la ley de inmigración de Arizona, SB 1070. Demandas en contra de la SB 1070 se presentarán ante la Suprema Corte de E.U. la semana entrante.
La Cámara de Representantes de Illinois está considerando ahora la legislación (SB 1064, patrocinada por el Senador Antonio Muñoz y el Rep. Edward Acevedo) que bloquearía a CCA el correr centros de detenciones en nuestro estado.