Por: Ashmar Mandou
Para coincidir con el Día del Planeta, Chicago Commons, reveló el viernes el nuevo Campo de Juegos del Centro Familiar Paulo Freire, en Back of the Yards/Nuevo Barrio de la Ciudad de Chicago. El nuevo campo es el primer campo natural construído para un programa Head Start de Chicago, incorporando la naturaleza en las actividades tradicionales de un campo de juego. "Este nuevo campo enriquece la creciente red de instalaciones de aprendizaje temprano de nuestra ciudad y es un ejemplo para otros", dijo Evelyn Díaz, Comisionada, Departamento de Servicios de Apoyo Familiares de Chicago.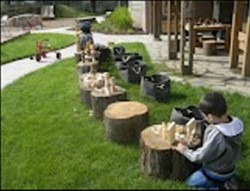 El campo incluye una variedad de plantas para que los niños las exploren y amplios espacios de juego, como un escenario que es campo abierto y alcoba de registro. La creación de un campo de juego natural, en un barrio de económicos desafíos ayudará a los niños a crecer a través de un autodescubrimiento creativo, mientras interactúan unos con otros, declaró Díaz. Noventa por ciento de los niños atendidos en el Centro Familiar Freire Paulo son de familias de bajos ingresos. Con recursos limitados y pocas oportunidades de salir fuera de la comunidad, el nuevo campo brindará a los niños una nueva oportunidad de conectarse con el exterior. "Estamos muy entusiasmados de inaugurar este nuevo campo de juego", dijo Dan Valliere, director ejecutivo de Chicago Commons. El espacio es un lugar energético y divertido donde los niños pueden jugar y explorar, mientras se conectan en forma más directa con el mundo natural. Agradecemos a todos los que apoyaron y promovieron este importante proyecto".
Chicago Commons planea también renovar tres campos de juego adicionales en los barrios de Humboldt Park y Pilsen. Para más información sobre Chicago Commons, visitar www.chicagocommons.org.