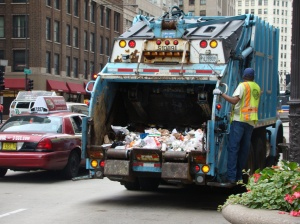 The City of Chicago announced it will implement the first step toward a grid refuse collection system that will increase efficiency and productivity while saving taxpayers approximately $20 million in operations costs, as previously outlined in the Mayor's 2012 budget.
The implementation of the grid system will change collection routes from non-linear ward geography to a grid system creating routes bordered by main streets and natural boundaries. The service model will concentrate sanitation workers in targeted areas of the city each day and create balanced service regions to improve daily collection performance.
By utilizing more efficient routes, it is estimated the City will use up to 20 percent fewer crews in the first phase/area of the roll out while providing the same refuse services to Chicago residents. Additionally, by working in a grid, it is expected that the City will significantly reduce the expense associated with fuel, vehicle purchase and vehicle maintenance.
Residents who would like more information about grid garbage collection and related maps are encouraged to visit the Chicago Department of Streets and Sanitation website at www.cityofchicago.org/dss, call 311 or contact their local ward office.