By: Arabel Alva Rosales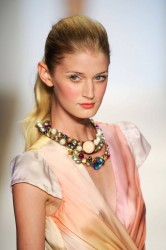 This summer is a great one for fashion. There are a lot of wonderful colors, prints, textures and lengths to choose from, both for men and women. Before we go there, let's focus a little on the basics.
Although curves are great, being healthy is super important. If you think of yourself as a canvas that fashion enhances, then let's make sure that canvas is as good as it gets. Working-out three times a week is very trendy, and will get you those lean muscles, that are always in fashion. Even if you begin by including walking into your daily routine, and some strength training so you can achieve that great muscle tone. Good eating, drinking lots of water, and wearing sunscreen help your glow also. Find the healthy, beautiful you for the summer, because feeling good about yourself makes everything look good on you. Remember, body beauty is not a trend, but a life-long affair.
Now, let's get to the FASHION trends. Color blocking has been hot for the spring and is moving right into summer. Brighter colors contrasting each other, so think very bright hues, don't be afraid of the neons: Hot Pink, Emerald Green, Tangerine, Turquoise, and Cobalt Blue. This is true for both men and women. If you don't feel comfortable wearing your top and bottom in these brights, then combine a neon pant or skirt with a pastel top. Bright jackets with a neutral colored bottom are a great idea because that bright jacket can be added to many, many pieces and quickly update your look. Remember that with all these trends, and for the more mature, sophisticate, you might just want to add an accessory that exemplifies this explosive concept of color.
Florals are super big this summer, and if you are really prepared to make a statement, you can wear two different types of floral prints on top of each other. Just make sure one of them is bigger than the other, and that you are picking-up the same color palettes in both. Additionally, consider that you may also just bring in an accessory: purse, shoes, earrings or bracelets that add a floral touch. Texture also goes a long way, and you may do a simple sheath dress, in a neutral, but with a floral texture.
Lengths are everywhere you want to be, short, midi, maxi and hi-low styles. The latter is even being combined with shorts, where if you don't want to show as much leg, but like the coolness of short, you can use that lower cut in the back and still get that sexy affect in the front. Short skirts are still very much in, and this is definitely one of those instances where you can show that you have been working out! If you want something more business-like or to change your look a midi is always appropriate. The maxis are really a more casual look, especially if the fabric is breezy cotton. And the hi-lows, as shown, can give you a little of all. One bold piece of jewelry is all you may need so that you stay cool, look fresh, and yes, very much on trend.