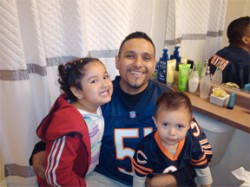 "Mi mejor amigo de la escuela elemental en México apareció en mi casa y tocó a mi puerta. Me sorprendió verlo, por lo que le pregunté, '¿Qué estás haciendo aquí Alex?' y el me respondió 'Estoy aquí para salvarte, estoy aquí para darte un riñón"
Tal vez la conversación entre Victor Manuel Villanueva y su amigo Alex de la Torre no significa nada para quien está leyendo esto. o es posible que simplemente no entiendan. Pero para más de 3,000 hombres de Illinois que están en lista de espera, esperando recibir un transplante de órgano que les salvará la vida, esta conversación sería su segunda oportunidad de vivir. Entre estos hombres, 444 de ellos son latinos que esperan un riñón y esperan a que álguien toque a su puerta con el regalo de vida.
Villanueva, de 33 años, padre de tres hijos, describe como era su vida antes de recibir el generoso regalo de su amigo, "Todas las noches, después que regresaba a casa del trabajo y mis hijos dormían, me despedía de ellos y los besaba como si fuera la última vez que lo hacía, porque no sabía si iba a estar bien después del tratamiento de diálisis al día siguiente".
Raiza Mendoza, Coordinadora de relaciones Públicas Hispanas y Enlace Comunitario de la Red de Donantes de Organos y Tejidos Gift of Hope, dice, "La lista nacional de espera para la gente que necesita un órgano para salvar su vida es de aproximadamente 114,500. Muchos de ellos son padres que todavía no saben si álguien les dará el regalo de vida y la oportunidad de celebrar el Día del Padre".
Mendoza declara que si todos nos unimos al registro de donantes de Illinois, con tiempo, podríamos crear un final feliz para todos los padres que necesiten un transplante de órgano. También dice que podríamos aliviar algo del dolor que muchos padres sienten cuando sus hijos necesitan el regalo de la vida.
Unase al Registro de Donantes de Organos y Tejidos de Illinois, solo lleva 30 segundos. También puede convertirse en donador de órganos firmando en Facebook. En "Timelime" vaya a "Life Event" y seleccione "Health and Wellness" después seleccione "Organ Donor", o puede visitar www.giftofhope.org/espanol, o llamar al (630) 758-2744.