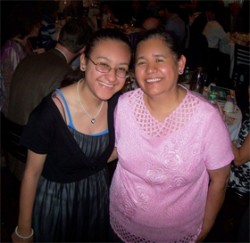 Nora Castrejon, recent graduate of Benito Juarez High School in Pilsen, received a $2,500 college scholarship from the Illinois Currency Exchange Charitable Foundation (ICECF) on Tuesday, June 19. The Foundation's Back 2 School kickoff luncheon was held at Maggiano's private banquet facility. ICECF Vice President Jerry Tufano of Chicago presented the Tufano Family Scholarship.
Castrejon graduated high school with a 4.64 GPA, on a 4-point scale, and was an AP scholar and Illinois State Scholar. Her mother, Maria Figueroa, beamed at her daughter's accomplishments. In Castrejon's acceptance speech, she indicated that it was an important role to fill, to be recognized as a low-income student achieving high academic levels and helping others to achieve advanced education.
Castrejon plans to attend Brown University in the fall. She was thrilled to meet NBC5 newscasters Daniella Guzman and Stefan Holt, and the scholarship money she receives will help complete her academic and travel expenses.
The ICECF also kicked off its annual Back 2 School program to provide school supplies for children in need. Those interested in helping, may visit any of the 400 local Illinois Currency Exchanges to make a donation or visit www.ICECF.org for information.