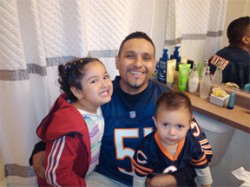 "My best friend from elementary school in Mexico appeared at my house and knocked on my door. I was surprised to see him so I asked, 'What are you doing here Alex?' and he responded 'I am here to save you, I am here to give you a kidney.'"
Perhaps the conversation between Victor Manuel Villanueva and his friend Alex de la Torre means nothing to most who are reading this or it is possible they simply do not understand. But to the more than 3,000 men in Illinois who are on a waiting list hoping to receive a life-saving organ transplant that will save their life, this conversation would be their second chance at life. Among these men, 444 of them are Latinos who are waiting for a kidney and hoping for someone to knock on their door with the gift of life.
Villanueva, 33, the father of three children describes how his life was before he received his friend's generous gift, "Every night after I returned home from work and my kids were sleeping I said goodbye to them and kissed them as if it were the last time I would ever see them again because I did not know if I was going to be okay after dialysis the following day."
Raiza Mendoza, Hispanic Public Relations and Community Outreach Coordinator for the Gift of Hope Organ and Tissue Donor Network says, "The national waiting list for people who are in need of an organ to save their life is approximately 114,500. Many of them are fathers who do not yet know if someone will give them the gift of life and the opportunity to celebrate Father's Day."
Mendoza states that if we all join the Illinois donor registry, with time, we would be able to create a happy ending for every father in need of an organ transplant. She also says we would be able to alleviate some of the pain many fathers feel when their children are in need of the gift of life.
Join the Organ and Tissue Donor Registry in Illinois, it only takes 30 seconds. You can also become an organ donor by signing up through Facebook. In the "Timelime" go to "Life Event" and select "Health and Wellness" then choose "Organ Donor," or you can also go to www.giftofhope.org/espanol, or call (630) 758-2744.