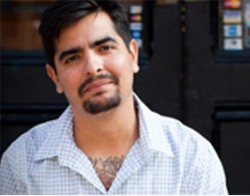 This summer, Bud Light and acclaimed chef and TV host Aarón Sánchez are teaming up for a new national summer grilling campaign: "Amigos y Carne Asada." Celebrating the time-honored Latino tradition, "Amigos y Carne Asada" will celebrate the perfect trifecta of beer, grilling and friends.
Having achieved national fame for hosting the Food Network's Heat Seekers, Chefs vs. City and participating as a judge on Chopped, Sanchez is currently the host of the Spanish-language cooking series, Aarón Loves NY, on Utilisima, a FOX-owned network. Beginning this week, Sanchez will appear as a judge on the Food Networks' Chopped: Grill Masters, in which 16 grilling professionals face off for a $50,000 grand prize over five episodes. Known as one of the country's foremost experts in Latin cooking, Sanchez is uniquely suited for his role as Bud Light Carne Asada Master.
"When Bud Light came to me with this opportunity, I was excited to be able to share Carne Asada on a larger level across the country," says Sánchez. "Carne Asada is a time to celebrate with friends and family – it's all about the food, music, good times and, of course, Bud Light – so this is a perfect match."
"With his charismatic personality and world-class culinary skills, Aarón was the ideal fit for helping launch our Carne Asada program," said Mike Sundet, vice president, Bud Light. "Our goal is to help elevate Carne Asada among adult beer drinkers, while infusing Bud Light's personality into the tradition." For more information on the Bud Light "Amigos y Carne Asada" program, please visit the Bud Light Latino Facebook page (www.facebook.com/BudLightLatino).