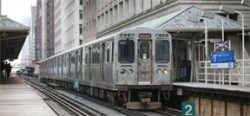 The Chicago Transit Authority (CTA) this month will host the first of several job fairs, intended to assist individuals interested in career opportunities as part-time bus operators (PTBOs) related to the 2013 Red Line South track renewal project.
The first fair will be held on Monday, July 30, from 9 a.m. to 1 p.m., at Chicago State University, 9501 S. King Drive, Chicago, Illinois. The fair is the first in a series of three community job fairs on Chicago's South Side to seek applicants for PTBOs whose work will involve driving shuttle buses and operating buses that are part of CTA's expanded supplemental service during the Red Line South project. Once hired, these bus operators will have a permanent position at CTA and will remain a part of the CTA workforce once the track renewal project ends.
For more information, visit the CTA website at www.transitchicago.com/redsouth, email at redlinesouth@transitchicago.com or send correspondence to Red Line South Project, CTA, 567 W. Lake Street, Chicago, IL, 60661.