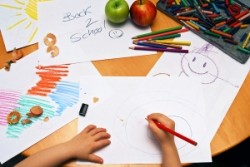 On Saturday, July 28, Norwegian American Hospital in conjunction with New Life Covenant Church will host its annual back-to-school festival – HopeFest Chicago: 2012. The event will take place from 10 a.m. until 2 p.m. on the Norwegian American Hospital campus, 1044 North Francisco Avenue, Chicago.
"Norwegian American Hospital is thrilled to be hosting the Seventh Annual HopeFest Chicago: 2012 in conjunction with New Life Covenant Church on its campus," said President and CEO José R. Sánchez. "This back-to-school event is a great way to engage the communities we serve by providing children and their families with the necessary items, including the required health screenings, to be fully prepared for the first day of school."
HopeFest is a collaboration between Norwegian American Hospital, New Life Covenant Church, the Wood Family Foundation and PepsiCo. For more information on HopeFest Chicago: 2012, please visit www.hopefestchicago.org.