Description: Fresh Blueberry
Active Time: 20 minutes
Total Time: 50 minutes
Amount: 6 servings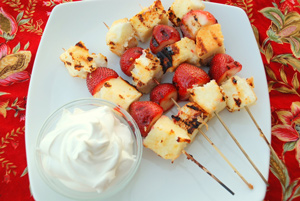 Ingredients:
4 cups fresh blueberries
½ cup + 2 tablespoons Essential Everyday™ Granulated Sugar, divided
1 tablespoon Essential Everyday Corn Starch
1 teaspoon lemon juice
2 cups Essential Everyday All-Purpose Biscuit & Baking Mix
2 tablespoons butter
½ cup milk

Directions:
1. In large saucepan over medium-high heat, combine blueberries, ½ cup sugar, cornstarch and lemon juice. Cook, stirring constantly, until mixture thickens and comes to a boil (about 5 minutes). Boil and stir 1 minute.
2. Remove from heat and transfer to a greased 9×9-inch baking dish. Set aside.
3. In medium mixing bowl, combine baking mix and butter. Using a pastry blender or two forks, cut butter into baking mix until mixture resembles fine crumbs. Stir in milk.
4. Drop dough by spoonfuls onto warm blueberry mixture. Sprinkle with remaining 2 tablespoons sugar. Bake in a preheated 400°F oven 25-30 minutes or until cobbler is golden brown and blueberries are bubbly.

Copyright © 2011 Supervalu, Inc. All Rights Reserved.

Watch for up to date information every week. If there is a specific health or nutrition related issue you would like more information on, please e-mail us at nutricion@lawndalenews.com or write to:

Lawndale News
5533 W. 25th St.
Cicero, IL 60804
ATTN. Fresh Take on Health and Nutrition Column from Jewel-Osco

Blueberries are a sweet treat in summer! Perfect on their own simply washed and enjoyed, these pretty berries are a welcome addition to any meal or snack. Did you know that a cup of blueberries is just about 100 calories? Toss a handful in your cereal or yogurt in the morning, add to salads, or eat them for a snack on their own. You can stock up on blueberries while they are on sale. Refrigerate some for now, freeze some for later and to use in treats like this fresh blueberry cobbler.