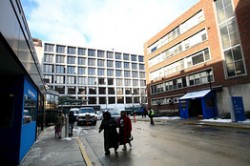 Of the 121 Hospitals in the Chicago metro area, Mount Sinai Hospital was ranked 27th and was acknowledged for a "high performing" specialty, nephrology, according to U.S. News & World Report's "Best Hospitals Rankings."
Clinical data such as patient outcomes and processes of care were central to the ranking system for hospitals and to the determination of "high performance" in a specialty. Other determining factors included how hospitals and specialties were ranked by a panel of physician experts.
The hospital rankings, said U.S. News Health Rankings Editor Avery Comarow, are like a GPS-type aid to help steer patients to hospitals with strong skills in the procedures and medical conditions that present the biggest challenges. The rankings were published by U.S. News in collaboration with RTI International, a research organization based in Research Triangle Park, N.C. Highlights of the 2012-13 rankings will appear in the U.S. News Best Hospitals 2013 guidebook, to go on sale in August.