By: Celia Martinez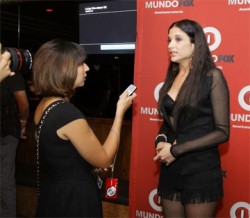 Crowds filled the V Live nightclub last Saturday evening for a Conexion en Vivo event, a five- city tour celebrating the launch of the new Spanish-language broadcast network, MundoFox. Chicago was Conexion en Vivo's second stop on the tour and the evening consisted of an array of entertainment, which included digital photography with the star of "El Capo," contests and musical performances.
The night ended with the highly anticipated performance of Natalia Jimenez, the former singer of the group La 5a Estacion. Jimenez wowed the audience with her incredible fashion sense, wearing a black bustier under a black sheer top and a short black sequined fringe skirt. She interacted with her audience throughout her performance, at one point saying to an audience member who was recording Jimenez on her phone, "I'm speaking on your phone!" and sang hits "Por Ser Tu Mujer," and "Recuerdame," sans Marc Anthony.
Jimenez, who was excited to be visiting Chicago, said she was pleased with the launch of MundoFox. "I'm very happy with the launch of this channel," said Jimenez. "I think Latinos also like watching the same kind of Fox programs in Spanish and I think it is an important step for the Latino community in the United States."
MundoFox, which will air nationwide on August 13th on channel 13 in Chicago, will aim to eliminate the stereotypical "Cinderella Story" that is often seen in Spanish-language Tele novelas. Instead, they want to bring English-language programming into the households of Spanish-speaking Latinos, just as stated in their slogan, "Americano como Tu." Some shows, such as "The Simpsons" and "Bones" will be dubbed in Spanish, while others, such as "Minuto Para Ganar," which will be hosted by Marco Antonio Regil, will be re-taped. MundoFox will also show re-runs of popular shows such as the original "Yo Soy Betty La Fea," and original programming not previously shown in the United States like "Los Exitosos Perez," "El Capo," and the sci-fi show "Kdabra," starring former Rebelde alumnus, Christopher Von Uckermann.
The show "Kdabra" centers around a young wizard named Luca, played by Uckermann. Kdabra, now on its second season, originally aired in Latin America and will now be brought to the television sets of the American public through MundoFox, something that otherwise would not be possible.
"I think it's a great opportunity," said Uckermann about the launch of MundoFox. "It's great that Latinos will also have quality programming." For more information on programming and their schedules visit www.mundofox.com.