By: Daniel Nardini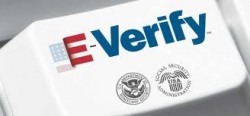 Despite it having been state law for a year now, many employers in Georgia refuse to bother with using the federal E-verify program. Even though the State of Georgia is now threatening the denial of state and federal loans and even bank loans to all those employers who do not comply with the E-verify program, many employers are simply not going to be coerced into using the program. This comes as no major surprise. Most employers cite the E-verify program as inaccurate and not exactly easy to use. There have been cases where some employees who were said "not to have a Social Security number" were in fact U.S. citizens. In other words, the federal database is incomplete.
More to the point, the program is more of a major burden than an asset for many employers—especially small employers who do not have the resources to apply to the E-Verify program. Contrary to what both the state and federal governments say, the E-verify program is not easy to use. The state law requires that employers fill out all forms required online for the E-verify program and then send a report of compliance to the Georgia state government. Not only is the application process confusing, but just as confusing is how to file a compliance report to the Georgia state government since this has not been fully explained. Worse, many small businesses run by farmers, tradespeople (plumbers, electricians, computer programmers, etc), and entrepreneurs find it impractical to fill out such applications online for individual employees they may have had for years. There are some businesses that have sprouted up to handle how to do the E-verify program, but they charge a lot of money, and with the recession still on many businesses can ill afford the services of these private companies.
When the State of Georgia passed the Illegal Immigration Reform and Enforcement Act, the law targeted mostly Latinos. Most of the provisions of the law have been placed on hold due to legal litigation. However, the requirement for the E-verify program is still being allowed by the federal government which sees nothing wrong with this part of the law. However, as Javier Palomarez, head of the U.S. Hispanic Chamber of Commerce has noted, requiring E-verify has proven to be a jobs killer for Georgia. Many big and small businesses in Georgia are either relocating or thinking of relocating out of Georgia altogether. With a state unemployment figure of 8.9 percent (compared with a 8.2 percent unemployment rate for the country on average), Georgia can ill afford losing too many businesses to E-verify or any anti-undocumented piece of legislation.