Por: Ashmar Mandou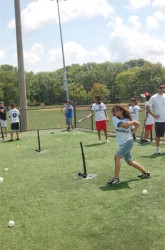 El sueño de 50 niños de la Autoridad de Tránsito de Chicago y el Distrito de Parques de Chicago se hizo realidad el martes, cuando tuvieron la oportunidad de conocer a sus jugadores favoritos de Los Cachorros.
1WORLD Sports se hizo presente en Little Cubs Field en Humboldt Park, en su segundo "Event to Inspire" con los Cachorros de Chicago, para ayudar a los niños marginados de Chicago a sentirse como estrellas en el campo, aumentando su confianza.
La mayoría de los chicos se mantuvieron cerca del jugador de Los Cachorros de Chicago, Tony Campana, para aprender el arte del baloncesto y adquirir valiosas lecciones de vida fuera del campo. Después de jugar, los niños aprendieron sobre nutrición, comunidad, equipo de trabajo y la importancia de una buena educación.
El evento de este año fue posible gracias a la ayuda de Sterling Partners, The Sports Shed, y The Best of Midwest Challenge (BOMC). Para más información sobre 1 WORLD Sports, visitar www.1WORLDSports.org.