Cortesía del Concilio Back of the Yards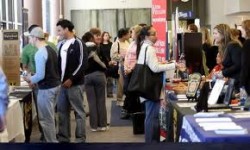 ¿Planea asistir a una feria de empleos esta semana? He aquí cinco útiles consejos que la ayudarán a conseguir un empleo en este mercado tan competitivo.
1. ¡Lleve un rèsumè! Los empleadores no van a confiar en su palabra cuando les hable sobre sus destrezas y experiencias. Lleve un rèsumè detallado, con referencias.
2. Vista apropiadamente y luzca presentable. La primera impresión cuenta para el posible empleador, por lo tanto ¡Vístase bien para impresionar!
3. Pula su perfil de medio de comunicación social. Muchos empleadores utilizan los medios sociales como Facebook, Twitter, etc. Para revisar un historial en forma extraoficial.
4. Dele seguimiento. No solo llene una solicitud y espere un milagro. Cada semana o así, llame al empleador para revisar el estado de su solicitud.
5. Tenga paciencia, sea positivo. Aunque el proceso de contratación puede tomar algún tiempo, no pierda la calma y mantenga una actitud positiva mientras espera una respuesta.
El Concilio de Back of the Yards ofrecerá la feria de empleos este jueves, 2 de agosto, de 9 a.m. a 1 p.m., en Chicago Indoor Sports, 3900 S. Ashland.