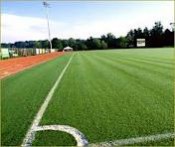 La Villita, el barrio con menos parques de la ciudad, tendrá un respiro el viernes, 31 de agosto, con la gran apertura del nuevo campo de fútbol sóccer en la Calle 31 y la Ave. Lawndale.
Residentes y organizaciones del barrio se reunirán con el Concejal del Distrito 22, Ricardo Muñoz, a las 4 p.m., para inaugurar el nuevo campo en los terrenos compartidos por las escuelas Gary Elementary y Ortiz de Domíguez Elementary. El nuevo campo permitirá tener juegos todo el año, ofreciendo el espacio recreacional tan necesitado por los estudiantes y los residentes del barrio.
Enlace Chicago, organización de desarrollo comunitario y Beyond the Ball, que busca expander el acceso para la recreación y la práctica de la vida sana para los jóvenes de la localidad, dieron el estímulo necesario para el campo, mientras el Concejal Muñoz condujo el esfuerzo para conseguir el dinero y pagar por él. Y eso no fue poco. U.S. Soccer Foundation dio $70,000, y Muñoz aseguró el $1.5 millón restante en fondos de la ciudad. Las escuelas Públicas de Chicago administran el proyecto.
En la ceremonia, MetLife Foundation honrará también a Beyond the Ball y al Departamento de Policía de Chicago por sus creativos esfuerzos por transformar espacios con historia de crimen y violencia, en áreas recreacionales accesibles y seguras.