Por: Ashmar Mandou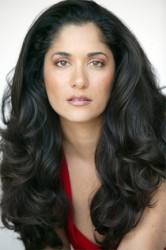 Tal vez estaba escrito que la actriz Yvonne De La Rosa se convirtiera en incipiente estrella en Hollywood. Después de todo, De la Rosa creció viendo los icónicos letreros de Hollywood brillar solo a unas cuantas millas de su casa. O tal vez fue la primera producción en la escuela elemental de De la Rosa, "Ricitos de Oro y los Tres Osos" lo que despertó su interés en la actuación. "Fui escogida para interpretar al oso bebé y lloré lágrimas verdaderas", rié De La Rosa. "Toda la clase aplaudió, inclusive mi maestra estaba impresionada por mi habilidad para derramar lágrimas. Así que puedo decir que quedé atrapada".
Cualquiera que haya sido el caso, De la Rosa entró a la industria del cine con gusto y un claro sentido de cómo quería elevar a la comunidad latina. "Desafortunadamente muchas veces los latinos son señalados como personajes unidimensionales", dice De La Rosa. "Por eso es sumamente importante para mi crear oportunidades para que los latinos interpreten personajes únicos, complejos e interesantes".
Además de su papel de estrella invitada en shows como "NCIS", "Weeds", King of Quieens" y "How I Met Your Mother", De La Rosa interpretó en el 2009 "8 Ways to Say I love My Life and Mean It", en la que ganó el Premio Imagen por su papel estelar. Pero sus papeles en televisión y en el teatro no igualan el entusiasmo que siente por su último proyecto. "Este es realmente un momento emocionante para mi", dijo De La Rosa. La actriz americocolombiana es protagonista de la serie en la red, "Los Americanos", un show que trata sobre temas y problemas existentes dentro de la comunidad latina en Estados Unidos, como el alcoholismo, el embarazo entre adolescentes y el desempleo. "El punto de esta serie es romper la forma en que se nos ha etiquetado antes. Si, somos latinos, pero nuestros problemas no son solo de nosotros. Todos pasamos por las mismas luchas y los mismos triunfos".
"Los Americanos" ha acaparado tanta atención que recientemente fue nominada para la mejor serie de la red este año, en el evento anual No. 27 de Premios Imagen, que tendrá lugar el 10 de agosto en el Hotel Beverly Hilton. De La Rosa fue escogida también por el prestigioso programa de escritores patrocinado por Nationial Hispanic Media Coalition (NHMC) como una de diez dramaturgas que tendrán la oportunidad de escribir guiones específicos en los próximos show producidos por las redes NBC y CBS. Este es un momento increíble para que los latinos compartan sus historias", dijo De La Rosa. "Me siento muy agradecida y afortunada de tener la oportunidad de tener el control y contar las historias que quiero contar"; lo que es un consejo que De La Rosa quiere compartir con la siguiente generación.
"Para cualquiera que desee adentrarse en esta industria, ya sea en la actuación, redacción, producción, siempre les aconsejo que se eduquen tanto como puedan", dijo De La Rosa, quien recibió su B.A en Dirección y Maestría en Guiones de la Universidad de California, Los Angeles (UCLA). "Uno no puede equivocarse con la educación", dijo. Si desea más información sobre De La Rosa o 'Los Americanos", visite www.yvonnedelarosa.com.