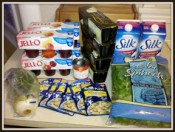 Meijer will double match every customer's $10 Simply Give donation made Sept. 2-8 in support of Hunger Action Month. This initiative, called Simply Give Week, is being launched to emphasize the retailer's continued commitment to help fight hunger in the Midwest.
The Simply Give Week double match is part of a $1 million donation to the retailer's 2012 Simply Give program, which aims to replenish the shelves of nearly 200 food pantries in its five-state region each campaign. The Simply Give program runs three times a year for about ten weeks; the fall 2012 campaign runs through Oct. 6.
Also in September, Meijer plans to once again expand its food rescue program with the addition of eight food banks in the Midwest. Participating food banks and pantries pick up fresh food – meat, cheese and select deli and bakery items – from their local Meijer store 2-3 days per week. An estimated 2,400 products are available to donate to food banks.
Nearly 700,000 pounds of food, which accounts for more than 527,700 meals, were donated by Meijer in 2011 to local food banks.