By: Daniel Nardini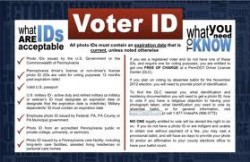 It has been mentioned in numerous articles. A lady named Viviette Applewhite, now 93 years old, has been voting in all presidential elections since she voted for Kennedy in 1960. Applewhite marched with Martin Luther King, Jr., in Macon, Georgia, during the Civil Rights movement, and had fought for the civil rights of African Americans. Now, due to Pennsylvania's new voter identification (ID) law, she is now ineligible to vote. Why? Because Applewhite does not have a photo ID that can show election officials at the polls who she is. She cannot obtain such an ID because she does not have an "appropriate" birth certificate. Applewhite is like so many tens of thousands of Americans who are being disenfranchised for the upcoming presidential election. These people were disenfranchised by the Republican majority Pennsylvania State Assembly who passed this law. Ironically, Applewhite, who fought for the civil rights of African Americans, and certainly their right to unimpeded voting, may soon not be able to vote in this election.
Applewhite, like so many other residents of Pennsylvania, have filed a lawsuit with the American Civil Liberties Union (ACLU) against this law. They point out first that there have been no cases of voter fraud even before the law was passed. Like all other states, all potential voters who cast their ballots must sign their names in a voter register to obtain their ballots. Their signatures are compared to past signatures. This system has worked for as long as anyone can remember. Yet the Republicans who voted for this law seem "worried" about voter fraud when in fact there has been no voter fraud, let alone major voter fraud that might have presented a problem. The people most affected by not being able to vote because they cannot obtain the IDs they need are mostly the elderly, African Americans. Latinos, and low income residents. The reasons are not hard to figure—many of these people live in areas where state offices are not available for getting the "proper" identification cards. Also, many people have found it hard to get from the state the proper birth certificates they need to be able to obtain the ID cards they need.
To many, this law seems to intend to disenfranchised those who would most likely vote Democrat or independent. This is why the law is being challenged in court. If anything, the law actually gives Republicans the advantage since those who would be largely unaffected are the affluent, white (non-Hispanic) upper-middle class. These people tend to vote Republican. That may have been the intent of this law. This is why the ACLU is trying to have this law tossed before the November presidential election. It looks like it might be a close call. At present, the law is being heard in court (the judge is being asked to make a ruling by August 13th). But we all know how slow justice can work at times. There are three main questions about what might happen. If the law is tossed, will it be in time for the November election? If the law is upheld, what will be the option for those who cannot vote? If the law is overturned after the election, could this lead to complications with the presidential election? I am biting my nails to see what will happen next.