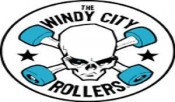 The Windy City Rollers, Chicago's #1 women's roller derby league, and Chicago Public Schools are partnering for an unprecedented "Recess Equipment Drive" for back-to-school at the Windy City Rollers game on August 25 at the UIC Pavilion.
In the wake of Illinois Senate's mandate for recess for all Illinois schoolchildren in May, CPS is bringing recess back for the 2012-2013 school year. CPS asked the Windy City Rollers for help with an equipment drive as a way to keep costs low and get the community excited for recess.
"We appreciate the generosity of the Windy City Rollers and their fans for contributions to ensure that CPS students are prepared with the tools they need to succeed," said CPS CEO Jean-Claude Brizard.
The Windy City Rollers, a nonprofit sports organization, has given back to Chicago since the league's inception in 2004. The Recess Equipment Drive will be the first time spectators can make a tangible donation on-premise. Traditionally, WCR makes a monetary donation to a charity partner during a halftime presentation at home games.
"By working with Chicago Public Schools to promote recess, the Windy City Rollers are able to support the type of community-level work that we value," said Molly Fannin, outreach coordinator for the Windy City Rollers.
The public may donate items by visiting the Fan Zone on the concourse of the UIC Pavilion at any time during the Windy City Rollers game on Aug. 25 at the UIC Pavilion, 525 S. Racine Ave. Doors open at 5 p.m. and the game begins at 6 p.m. For tickets and more information, visit windycityrollers.com.