www.choosemyplate.gov
for menus and guidance.
Vegetarian meals can be quick and easy to serve. Using vegetables (or fruits, for that matter) can be a huge time and energy saver because they don't take too long to cook and in fact, taste great raw! Or try a stir fry – it comes together quickly and makes meals bright and crunchy, too.
Vegetarian meals are a budget friendly solution. When it comes to loads of nutrients for the calories and dollars spent, beans are hard to beat. Try them in casseroles, soups, stews, or salads to add texture and nutrition.
Good nutrition and food safety go hand-in-hand. As careful as you may be about the foods you eat, it is just as important to make sure your foods are properly prepared and handled. Remember these four principles:
Clean – wash hands, food utensils and cutting boards with soap and water before handling food.
Cook – Cook foods to a safe temperature – even veggie meals, when reheated, should be cooked to 165 degrees for safety.
Chill – Hot dishes which will be chilled as leftovers should be placed in your refrigerator as soon as possible to keep them safe for later.
Separate – Keep raw meat and poultry products separated from fruits, veggies and any other foods which will not be thoroughly cooked.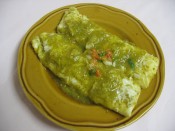 Bean and Rice Enchiladas with Salsa Verde Sauce
Preparation:

Prep Time: 25 minutes
Cook Time: 30 minutes
Amount: 10 servings

Ingredients:
1 (6.8 ounce) package Spanish rice mix
1 (15 ounce) can refried beans
1 (16 ounce) jar salsa Verde, divided
1 (8 ounce) package shredded Cheddar cheese, divided
1 cup sour cream, divided
10 (8-inch) flour tortillas
sliced avocados

Directions:
1. Prepare rice according to package directions.

2. Meanwhile, in medium bowl, combine refried beans, 1 cup salsa Verde, 1 cup cheese and 1/2 cup sour cream; set aside. In small bowl, combine remaining salsa Verde and sour cream; set aside.

3. Spread about 1/4 cup of bean mixture on one-half of tortilla. Top with about 1/3 cup rice. Roll up and place in a 13×9-inch baking dish that has been sprayed with no-stick cooking spray. Repeat with remaining tortillas.

4. Spread reserved salsa Verde sour cream mixture over enchiladas. Sprinkle with remaining cheese. Bake in a preheated 375°F oven for 25-30 minutes or until heated through and cheese is melted.

Watch for up to date information every week. If there is a specific health or nutrition related issue you would like more information on, please e-mail us at nutricion@lawndalenews.com or write to:

Lawndale News
5533 W. 25th St.
Cicero, IL 60804
ATTN. Fresh Take on Health and Nutrition Column from Jewel-Osco

Until next time!

If you aren't getting the 4 ½ cups (combined) fruits and veggies each day that the average adult needs, think about adding vegetables (or fruits) to every eating occasion. Visit