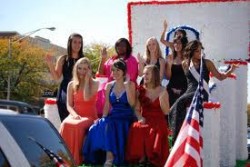 The Town of Cicero is pleased to be a co-sponsor partner again this year for the 44th Annual Houby Day Festival and Parade.
Last year more than 160 floats and groups participated in the parade which attracted more than 25,000 people along Cermak Road. Cicero Town President Larry Dominick said there is still time for local businesses and groups to participate in the parade by contacting Cynthia Salvino at 708-656-3600 ext 288. This is one of the biggest parade and festival events in the West Suburbs.
The Houby Festival begins October 4th thru 7th with a carnival at Austin and the L Strip. The pageant selection of the Houby Day Queen will be held the same day at Alessandro's Restaurant. And on Sunday, Oct. 7th, the parade will kick off at noon at Central Avenue and Cermak Road and head west into Berwyn to Oak Park Ave.
The Houby Day Festival and Parade are co-sponsored with Berwyn Mayor Robert Lovero and Berwyn Main Street. Houby is a Czech and Slovak word for mushrooms.