Por: Ashmar Mandou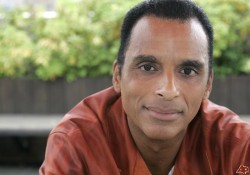 Conocido por sus melódicas y dulces canciones de amor, El artista, ganador del premio GRAMMY, Jon Secada, desea ser recordado por algo más que eso; por una voz para los que viven con el virus C de la hepatitis crónica (HCV). Recientemente, Secada se unió a Merck y a American Living Foundation (ALF) para enviar su voz a la campaña Tune In to Hep C para ayudar a conscientizar a la comunidad latina sobre la condición HCV.
"Esta es una gran oportunidad para informar y ayudar a educar a las personas que viven con esta crónica enfermedad", dijo Secada durante una entrevista telefónica con Lawndale News. "La experiencia de investigar e informar sobre este problema, tanto en inglés como en español, ha sido verdaderamente estimulante". Para Secada, su razón por haber participado es una muy personal. El año pasado, el cantante perdió a su padre debido a complicaciones asociadas con la infección crónica del HCV.
El HCV Crónico es una infección viral del hígado que puede ser una amenaza grave y afecta el hígado con el tiempo y provoca una enfermedad mortal del hígado o cáncer en el hígado. Aproximadamente 3.2 millones de estadounidenses padecen de HCV crónica; entre ese número un millón son latinos. Las investigaciones muestran que las complicaciones debidas al HCV se desarrollan rápidamente y dan como resultado más problemas de salud entre los latinos, comparado con otros grupos étnicos. De acuerdo a ALF, se calcula que del 70 al 80 por ciento de personas recién infestadas con el virus no muestran síntomas, por lo tanto, desconocen que tienen el virus.
"Mi padre prefirió, por mucho tiempo, no decir nada a nadie sobre su enfermedad y prefirió no atenderla por razones que no he podido entender. Antes de morir, me dijo que quería compartir su historia para ayudar a otros como él, que padecen hepatitis C crónica, pero que no se atienden", dijo Secada, quien no conoció el diagnóstico de su padre por más de una década. "No puede uno callar sobre una enfermedad silenciosa, que tiene consecuencias, como la Hepatitis C. crónica – uno necesita hablar con su doctor y hablar con su familia. Mírenmen a mi, la gente que te quiere desea estar ahí para ayudarte y desea que tu estés ahí para ellos".
Secada exhorta a las familias a que hablen sobre los problemas relacionados con la salud en conversaciones diarias y aconseja a las familias, a las familias latinas en particular, visitar a su doctor o a su clínica de salud local.
La Fundación Estadounidense del Hígado, asociada con Merck en la campaña Tune In to Hep C para ayudar a derribar las barreras que pueden impedir que la gente luche contra esta enfermedad, incluyendo la falta de conocimiento o el estigma social. American Liver Foundation es una organización nacional abogando por quienes viven con alguna enfermedad del hígado y sus familias, que ofrece educación, apoyo e investigaciones para la prevención, el tratamiento y la cura de las enfermedades biliares. Para más información sobre el HCV crónico, visitar www.TuneInToHepC.com. También puede escuchar la nueva canción de Secada, Your Voice Inside, escrita en memoria de su padre.