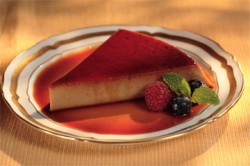 With Fall already here and Winter fast approaching, there's nothing better on a chilly morning than a hot cup of coffee. And thanks to Nescafé Clásico, there are more ways than one to enjoy that coffee taste. Courtesy of Nescafé Clásico you can find one of their more popular recipes of Flan Clásico to enjoy with family and friends.
Flan Clásico
Tiempos Estimados:
Tiempo de preparación: 15 minutos
Tiempo de cocción: 1 hora y 5 minutos
Tiempo de reposo: 4 horas
Porciones: 8
Ingredientes
1 taza de azúcar granulada
1 lata (14 onzas) de Leche Condensada NESTLĒ LA LECHERA
5 huevos grandes
1 lata (12 onzas fluidas) de Leche Evaporada NESTLĒ CARNATION®
1 a 2 cucharadas de café instantáneo NESCAFÉ CLÁSICO
Crema batida (opcional)
Fruta fresca (opcional)
Preparación
PRECALENTAR el horno a 325° F.
CALIENTA el azúcar en una olla pequeña de fondo grueso a fuego medio bajo, revolviendo constantemente por 5 a 7 minutos o hasta completamente disuelto y de color caramelo. Vierte rápidamente en el molde, girando para extender el caramelo por la base y las paredes del molde.
PONER la leche condensada, huevos, leche evaporada y café instantáneo en la batidora; cubre. Mezcla hasta que quede suave. Echar dentro del molde preparado; cubrir con papel de aluminio. Pon el molde dentro de una bandeja grande; llena la bandeja con una pulgada de agua.
HORNEAR por 55 a 65 minutos o hasta que al insertar un cuchillo en el centro, salga limpio. Quitar el flan del agua. Deja enfriar sobre una rejilla. Enfría en el refrigerador por 4 horas o durante la noche.
PARA SERVIR, corre una pequeña espátula por la orilla del molde. Invierte el plato de servir sobre la olla. Voltéalo y agítalo suavemente para sacar. Sirve con crema batida y fruta.