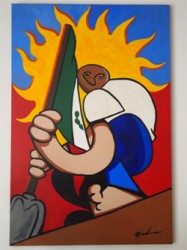 Addison Center for the Arts presents, "Children of the Sun," an art exhibition by Jose F. Zavala set to run through November 3rd, 2012 at the Addison Center for the Arts gallery, 213 N. Lombard Rd.
Jose F. Zavala was born on December 18, 1971 in the small border town of Roma, Texas. Soon after that, his family moved to the Southwest side of Chicago in the neighborhood known as Pilsen. During the 80s and 90s, Pilsen prove to be a challenging venue for Jose to grow up in. His art would give him the escape he often needed from the realities of this world.
Zavala survived the life of gangs, drug addiction, gunfire and he eventually became homeless. On the verge of death he chose not to give up, but to turn his life around, and use his struggles to enrage the flames of creativity in his artwork. To learn more about Zavala's work or the gallery, visit www.addisoncenterforthearts.com.