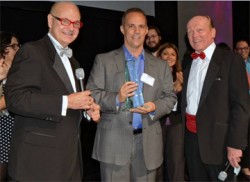 New Futuro, a Hispanic education community helping families get their students into college and beyond, won the 2012 Chicago Innovation Award. Selected out of almost 400 nominees, from across all industries, sizes and sectors, New Futuro was the only company with a Latino focus to make the finals and win the prestigious award.
The announcement was made at the 11th Annual Chicago Innovation Awards celebration held at Chicago's Harris Theater, with more than 1,200 business and civic leaders in attendance. "To receive an innovation award, in a city like Chicago where the startup scene is thriving is a huge honor," said Peter Wilkins, co-Founder and CEO of New Futuro.
New Futuro was recognized for its socially innovative high-touch, high-tech bilingual educational community designed to help families get their students into college and beyond. Through its unique business model, the organization is able to offer free educational tools, resources and ongoing guidance and support to Latino families – including thousands of dollars in scholarships through its various partners.
"This award does not just recognize our efforts, it recognizes the collective efforts of the hundreds of organizations who have partnered with us to help millions of Latino families and their students get into college and beyond," said Martin R. Castro, Esq. Chairperson and Co-Founder of New Futuro.
New Futuro is currently hosting a national College Prep Fair tour presented by Allstate. The tour has already touched the lives of tens of thousands of Latino families and students in Los Angeles, Houston, New York, and will be in its hometown, Chicago, on November 10, 2012 at Navy Pier. To learn more a about these free events, which include hundreds of bilingual representatives from universities, colleges and community organizations, as well as dozens of small educational sessions with college and career experts, visit www.NewFuturo.com/events.