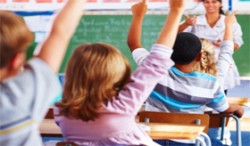 Chicago Public Schools (CPS) opened its application process Monday for the 2013-14 school year. Through this process, families can explore school options available to determine the best school environment for their children, as well as apply for elementary magnet and selective enrollment schools, and high school offerings including magnet, selective enrollment, International Baccalaureate (IB), military academies and career and technical education programs. Families are encouraged to take advantage of resources available for navigating the process. Other resources made available by the District include:
The CPS Office of Access and Enrollment (OAE) website at www.cpsoae.org – General information about CPS' schools and academic programs is available here. Later this month, families will be able to find more detailed information under the "Resources" tab regarding the application process, testing, selection and notification processes.
Comprehensive Resource Guides of School Options – The District's Options for Knowledge elementary school guide and an all-new high school guide will provide comprehensive listings of CPS programs. The guides will be available online tomorrow and print versions will be available later this month at all schools and at CPS' downtown headquarters located at 125 S. Clark Street. Both the Options for Knowledge Guide and the High School Guide will be available in English and Spanish.
Open Houses – Many schools throughout the District offer parents an opportunity to meet with teachers and principals as well as view school environments during open houses. These events allow parents to find out information about special academic programs that individual schools offer, extracurricular activities and school amenities. Parents can contact schools to find out dates for open houses.
Important CPS application process dates include:
October 8 – All applications available
November 5 – Testing begins for selective enrollment elementary schools
November 17 – Testing begins for selective enrollment high schools
December 14 – All applications due