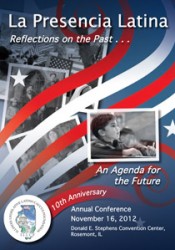 The Illinois Legislative Latino Caucus Foundation's 10th annual conference, "La Presencia Latina: Reflections on the Past . . . An Agenda for the Future", will be held on Friday, Nov. 16th at the Donald E. Stephens Convention Center in Rosemont, IL.
During the conference, the ILLCF will provide a forum to address issues of critical importance to the Latino community, leading to the creation of the Agenda for the Future. This year's program will:
Emphasize how recent changes in the political, economic and social arenas have raised fundamental challenges for all Americans
Address critical public policy issues important to the Illinois Latino community,
Draw on the expertise, experience and participation of government, community, business and professional leaders,
Drive the agenda for the Illinois Legislative Latino Caucus
For additional information, visit the foundation's web site at www.illcf.org or call (224) 366-8512. Call now to reserve your place, as spaces are limited.