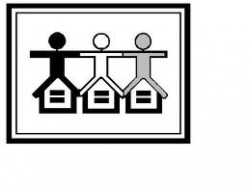 Esta semana, National Fair Housing Alliance (NFHA), HOPE Fair Housing Center,, South Suburban Housing Center, Metropolitan Milwaukee Fair Housing Council y Fair Housing Center de Central Indiana anunciaron una queja federal de discriminación en la la vivienda en contra de Bank of America Corporation, Bank of America, N. A., y BAC Home Loan Servicing, LP. Esta queja es el resultado de una investigación encubierta de Bank of America, que puso al descubierto que el gigante financiero mantiene y comercializa casas embargadas en barrios blancos, de mucha mejor forma que en barrios afroamericanos y latinos de Chicago, Milwaukee e Indianápolis.
La queja fue registrada en el Departamento de Vivienda y Desarrollo Urbano de E.U., y es parte de una queja enmendada que NFHA y siete agencias afiliadas registraron el 10 de octubre, que pone al descubierto como Bank of America ha mantenido y comercializado propiedades en forma diferente en los barrios blancos, afroamericanos y latinos del país.
Bank of America es uno de los bancos más grandes de Estados Unidos, vende propiedades embargadas y es una de las instituciones financieras más grandes del mundo. La investigación en 13 ciudades, de 505 casas embargadas, propiedad, atendidas o administradas por Bank of America demuestra que tiene la práctica sistemática de mantener y comercializar sus propiedades embargadas, adquiridas por el banco (conocidas también como Propiedad de Bienes Raíces o propiedades REO) sin reparar en las comunidades de color, mientras mantienen y comercializan propiedades REO en comunidades predominantemente blancas. La investigación ha evaluado las propiedades REO de Bank of America en 13 ciudades, incluyendo Chicago. Las comunidades de color continúan experimentando un índice dos veces mayor que las comunidades blancas y continúan viendo como sus propiedades REO se deterioran y quedan vacantes.
"Los buenos vecinos son considerados, cuidan sus patios, recogen su basura y cuidan sus barrios", dijo Shanna L. Smith, presidenta y CEO de National Fair Housing Alliance. "Bank of America no es un buen vecino en las comunidades de color. Al contrario, una de las mayores instituciones de la nación en embargo de casas está ocupada dando excusas y escurriendo el bulto cuando se trata de responsabilizarse por las casas que posee o a las que sirve. En muchos barrios blancos, las propiedades embargadas de Bank of America son como otras tantas casas a la venta en la cuadra, con prados cuidados y letreros de "se vende". Los barrios afroamericanos y latinos merecen el mismo trato".
Estadísticas detalladas adicionales en www.nationalfairhousing.org.