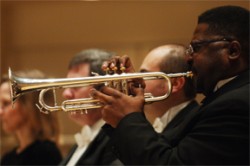 The Chicago Sinfonietta presents Encuentros, a series of five new concerts for families on Chicago's southwest side featuring chamber-sized ensembles of orchestra members. The first Encuentros concert pairs the Chicago Sinfonietta Brass Ensemble with the Pilsen / Little Village Neighborhood Choir of Chicago Children's Choir in a program of traditional holiday favorites and Navidad carols from Latin America. The UNO Soccer Academy's Advanced Guitar Ensemble will also perform a few pieces. The concert takes place Wednesday, December 12, 6 pm at the UNO Soccer Academy, 5050 S. Homan Avenue in Chicago's Gage Park neighborhood. It will be followed by the school's tree-lighting ceremony and refreshments. The remaining concerts in the series include:
The Chicago Sinfonietta Percussion Ensemble with the Chiara Mangiameli Ensemble, Saturday, February 9, 2013 at the National Museum of Mexican Art
Chicago Sinfonietta's Project Inclusion Ensemble with James Sanders' Conjunto, Friday, March 8, 2013 at Benito Juárez Community Academy
The Chicago Sinfonietta Wind Ensemble with Mariachi Monumental de Mexico in a Cinco de Mayo celebration, Thursday, May 2, 2013 at Benito Juárez Community Academy
The Chicago Sinfonietta Chamber Ensemble and Sones de México Ensemble Chicago in a special outdoor summer concert (date and location to be announced)
Tickets are $10 adults and $5 children, with special family packs for $20. Tickets can be purchased by calling 312-284-1554 or online at www.chicagosinfonietta.org.