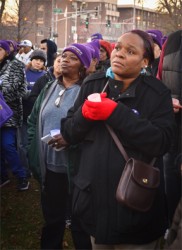 A pesar de amasar considerables ganancias, los propietarios de asilos de ancianos de Illinois sistemáticamente dejan de invertir adecuadamente en las necesidades de los residentes confiados a su cuidado, de acuerdo a trabajadores en las instalaciones, a quienes se unieron cientos de personas el 15 de noviembre en una demostración en masa a la que se agregaron legisladores y abogados comunitarios.
Participando en una marcha y vigilia, fuera de cuatro asilos plagados de problemas en el sector norte de la ciudad, los trabajadores dijeron que la falta de personal, la escasez de materiales y lamentablemente las bajas tarifas de compensación del personal son los factores que impiden un buen servicio en los centros atendidos por la Asociación de Instalaciones de Cuidado de Salud de Illinois (IAHCF). IAHCF es una alianza de más de 100 asilos a nivel estatal y sus miembros recopilaron una ganancia de $50.5 millones en el 2011.
Durante la demostración a lo largo de Sheridan Road, los manifestantes se detuvieron en cuatro asilos, donde dijeron que las condiciones eran sintomáticas de los problemas que afligen a muchos locales de IAHCF. Los cuatro locales – Lake Shore Healthcare, Chalet Living and Rehab, Alden Village Norh y Lakefront Nursing and Rehab – fueron puestos bajo escrutinio por los reguladores el año pasado.
Mientras tanto, por lo menos el 25 por ciento de los asilos de IAHCF no cumplen con el mínimo personal requerido fijado en la legislación de la Asamblea General de Illinois y aprobada en el 2010 en un intento por remediar los problemas crónicos en las instalaciones. SEIU Healthcare Illinois e Indiana respaldaron el proyecto a nombre de los residentes del asilo, situación que está despertando alarma en la comunidad, ya que la falta ilegal de personal sigue siendo un problema dominante en la industria.