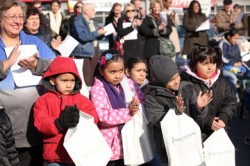 Saint Anthony Hospital, a 151-bed community hospital, on Friday, Nov. 16, celebrated the reopening of its newly remodeled Kedzie Avenue clinic and the expansion of its service offerings. Saint Anthony has been providing programs and services for more than 115 years in the North Lawndale and surrounding communities. The Kedzie Clinic will be the first of several to follow the hospital's new model for outpatient clinics, which features an updated and more modern design, centered around more specialty service offerings.
"Quality health care is something every community deserves, and we are pleased to unveil the first of several clinics which raise the standard of care for our community members through the delivery of modern, top-class services in the specialty areas they've told us are needed and important," said Guy A. Medaglia, president and chief executive officer of Saint Anthony Hospital.
The Kedzie Clinic will continue offering family practice and internal medicine and have added occupational health, podiatry, radiology, rehabilitation, speech therapy and immediate care services. "Health care is a pillar of any community upon which so many areas of its success hinge," said Alderman Edward A. Burke. "We're pleased to see Saint Anthony Hospital investing in improving care and that Brighton Park could be the first to benefit from its new outpatient clinic model."
In addition to demonstrating continued commitment to the community in the area of outpatient health with its new clinic model, Saint Anthony is also pioneering community-centered health care on an even larger scale through the development of a forward-thinking model that will transform community wellness development in disadvantaged neighborhoods across the country. Saint Anthony Hospital leaders are part of the team driving the development of Focal Point, a financially self-sustaining community campus, which will deliver a combination of retail, wellness, education, arts and recreation elements, customized to meet the needs of its community. More information on Focal Point can be found at www.FocalPointChicago.org.