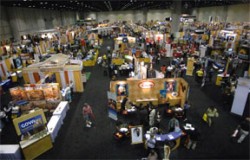 Mayor Rahm Emanuel and the United States Hispanic Chamber of Commerce (USHCC), the country's largest Hispanic business organization, announced that Chicago will be the host city for the organization's 34th Annual National Convention. The three-day convention is slated to take place September 15 – 17, 2013, at the historic Hilton Chicago hotel.
"I am pleased that the USHCC selected Chicago as the host for their national convention in 2013," said Mayor Rahm Emanuel. "The USHCC promotes the economic growth and development of Hispanic entrepreneurs and represents the interests of millions of Hispanic-owned businesses across the United States. As we build a 21st century economy, we must work together in new ways to attract and create business in Chicago and across the country. Chicago's economic success has continually been strengthened by supporting the expansion of immigrant and Hispanic-owned business and the USHCC Convention will serve as a springboard for collaboration in building the economic opportunities of the future."
Following a competitive selection process, the USHCC unanimously selected Chicago as the next location for the chamber's 34th Annual National Convention. The USHCC Convention is known as the largest gathering of Hispanic business leaders in America, attracting business associations, entrepreneurs, corporate executives, chamber leaders and members, Hispanic business enterprises (HBE's), and policymakers from across the United States. Approximately 7,000 attendees are expected in Chicago for the program.