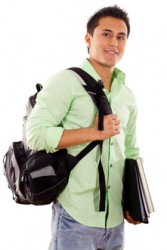 Los estudiantes adultos que desean comenzar o continuar su educación en la Universidad Roosevelt, pueden aprovechar una nueva afiliación que Roosevelt ha establecido con LearningCounts.org para que experiencias de aprendizaje anteriores sean evaluadas y certificadas para crédito.
Los créditos serán directamente transferibles y aplicables hacia el diploma de los estudiantes. "Muchos estudiantes adultos han adquirido considerable conocimiento de sus empleos, entrenamiento militar o servicio voluntario, que puede llevarles a un crédito de colegio", dijo Doug Knerr, rector del Campus Schaumburg de la Roosevelt.
LearningCounts ofrece Evaluación Antes del Aprendizaje (PLA), proceso que evalúa el conocimiento de un individuo y determina si puede ser utilizado para crédito en el colegio. Tomando un curso en línea, de tres créditos, de LearningCounts, los estudiantes aprenden como desarrollar un portafolio de sus experiencias de aprendizaje a nivel de colegio, desarrolladas fuera del salón de clase.
LearningCounts es administrado por Council of Adult and Experiential Learning (CAEL), organización no lucrativa, pionera en educación para adultos. Roosevelt es uno de nueve colegios y universidades en Illinois que ofrece evaluación de créditos por medio de LearningCounts.
"El proceso PLA ofrece índices de terminación considerablemente más altos, así como diplomas más económicos, para los miles de adultos que acaban de iniciar sus diplomas o que tienen algunos cursos de universidad pero necesitan terminar", dijo Chari Leader Kelley, vicepresidente de LearningCounts.
Para más información sobre PLA y Portfolio Development, visite www.learningCounts.org o comunicarse con la Oficina de Admisiones del Campus de la Universidad Roosevelt al 847-619-7300.