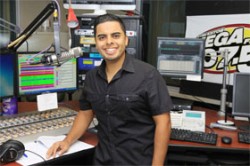 Edgar "Shoboy" Sotelo, the enthusiastic radio personality of the "Shoboy en la mañana" morning show on Mega 107.5 in Dallas and a committed volunteer for the Magdaleno Leadership Institute, has been selected by a public online vote as the 2012 MillerCoors Líder of the Year. Edgar will receive a $25,000 grant for the Magdaleno Leadership Institute to implement a Latino leadership project with MillerCoors.
"I am honored to have been selected as the 2012 MillerCoors Líder of the Year and grateful for the platform that God has given me to continue serving our community," said Edgar. "I want to thank everyone who voted for me—with your votes you have invested in the future of our tremendous servant leaders at the Magdaleno Leadership Institute and the thousands of lives they will inspire. Keep serving the community and 'no te aguites' (don't let anything bring you down)."
Edgar was among 12 outstanding Latino leaders nominated by local and national nonprofit organizations for their leadership and contributions to their communities. The program offers up-and-coming Latino professionals leadership tools, counsel and the opportunity to network through www.MillerCoorsLideres.com.