By: Ashmar Mandou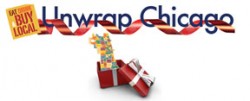 With the holiday season in full speed, you may feel compelled to get all of your last minute Christmas items out of the way by heading over to mall. And who can blame you? It's a one-stop shop for all Christmas-related gifts. But before you head over to the larger chained stores, we have some alternatives for you.
In honor of Eat, Drink, and Buy Local week, we encourage you, the last minute shopper, to spend your hard working dollars on mom-and-pop shops across the city. According to the U.S. Small Business Administration (SBA), small businesses have generated 64 percent of new jobs and paid 44 percent of the total United States private payroll. Here in Illinois, with the help of the Illinois Hispanic Chamber of Commerce (IHCC), Hispanic business revenue increased by more than $200 million in a 20-year period. So it's safe to say, small businesses contribute to local economies by bringing growth, innovation, and sustainability to neighborhoods. Responsible for creating jobs, small businesses are the bread and butter of various neighborhoods across this grand city of Chicago.
This Holiday Season help support local entrepreneurs by visiting their establishment ranging from, restaurants to comedy clubs, boutiques, and everything in between. To get you started we compiled a list of some of the many vibrant businesses sure to peek your interest.
Ciclo Urbano
2459 W. Division St.
Chicago, IL 60622
773-772-4870
Ciclo Urbano is a full service community bicycle shop that supports the Humboldt Park and West Town Neighborhoods focusing on affordable and reliable transportation. All sales from the shop support the business's larger mission of providing bicycle education for Chicago youth.
Gallimaufry Gallery
4712 N. Lincoln Ave.
Chicago, IL 60625
773-728-3600
Gallimaufry Gallery provides handmade American crafts as well as fair trade international items. Some of their items include, jewelry, vases, music boxes, and hand knit scarves and hats.
Bombon Cafe
38 S. Ashland Ave.
Chicago, IL 60607
312-733-8717
Bombon Café satisfies the most insatiable of appetites with their assortment of delicious goodies from tortillas soup, to chicken chorizo, and tres leche cake.
Artesanias D' Mexico
1644 W. 18th St,
Chicago, IL 60608
312-563-9779
Somewhat hidden, Artesanias D' Mexico offers a collection of Mexican art and crafts, such as Oaxacan black pottery and Yucatecan dresses.
Chicago MedSpa
3061 W. Logan Blvd.
Chicago, IL 60647
773-772-7899
Chicago MedSpa and Clinic offers a unique opportunity for beauty, health, and wellness in Logan Square.
Arts n Spirits
1921 N. Damen Ave.
Chicago, IL 60647
773-772-3877
The goal of Arts n Spirits is to make creation and enjoyment of art accessible to those who believe they have a little or no artistic talent. Arts n Spirits hopes to unleash your inner artist.
This list is just the tip of the iceberg. If you would like to more about how to help support locally owned businesses, visit www.eatdrinkbuylocal.org, www.localfirstchicago.com, or contact your local chamber of commerce.