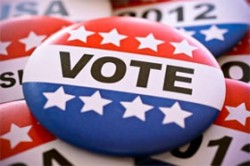 Early Voting Location/Polling Locations
Please be advised: Due to circumstances beyond our control, Early Voting for the February Election will be held at the Berwyn Public Library located at 2701 S. Harlem Ave. Early voting will take place from February 11-23, 2013 Monday-Saturday 9 a.m.-5 p.m.
In addition, the polling location of Ward 3 Pct. 1 and Ward 3 Pct. 4, on Election Day, Tuesday February 26, 2013, will be temporarily relocated to the Berwyn Park District Liberty Cultural Center, 6445 W. 27th Place. Note: The above changes are temporary and only apply for the February 26th Consolidated Primary Election and the above Early Voting and Precincts sites will be located back at Berwyn City Hall 6700 W. 26th Street for the Tuesday April 9, 2013 General Election.
Permanent Relocation of Ward 6 Pct. 2
The polling location for Ward 6 Pct. 2, formerly located at Komensky School, will be permanently relocated to the Italian American Organization, 6710 W. 16th Street.