New legislator will focus on creating jobs and improving schools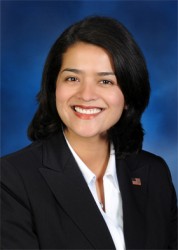 Silvana Tabares (D-Chicago) took the oath of office as one of the newest members of the Illinois House of Representatives during last Wednesday's inaugural ceremonies in Springfield. Tabares, who will serve the 21st District, which covers several southwest communities, expressed her desire to immediately start working on the issues facing the state and will lead by example by committing to support legislation that will cut lawmakers pay.
"The people of the 21st District have bestowed an incredible opportunity upon me, and I will do my best to fight for their needs and concerns," Tabares said. "They are fed up with lawmakers arguing instead of doing the peoples' work. I will lead by example when it comes to cleaning up the state and holding public officials accountable, and I hope my new colleagues will join me in this endeavor."
Tabares' full time constituent service office is located at 7676 W. 63rd Street, in Summit with the following office hours Monday, Wednesday, Thursday, and Friday from 9:00 a.m. to 5:00p.m., Tuesday from 9:00 a.m. to 7:00 p.m. and the second Saturday from every month from 10:00 a.m. – 1:00 p.m.
Tabares represents the 21st District, which includes portions of Bedford Park, Cicero, Forest View, Lyons, McCook, Riverside, Stickney and Summit, and the Chicago neighborhoods of Archer Heights, Brighton Park, Garfield Ridge, Lower West Side, McKinley Park and South Lawndale. For more information on legislation or community events, please contact Tabares at rep.tabares@gmail.com.