Por: Ashmar Mandou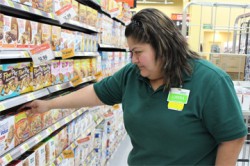 Residentes de las comunidades de Back of the Yards, Lakeview y La Villita eran todo sonrisas el miércoles por la mañana, cuando el "Mercado del Barrio" de Walmart abrió sus puertas en tres nuevos locales. "Sinceramente sentimos que con estas tiendas de 'mercado de barrio' estamos dando a los residentes lo que necesitan, a precios convenientes", dijo Daniel Morales, vocero de Walmart.
Empleando a un total de 350 personas, el 'Mercado del Barrio' Walmart, tienda a menor escala que sus homólogas de los supercentros, está lista para competir con las cadenas de tiendas vecinas, ofreciendo bajos precios, productos de calidad y una plétora de servicios, de acuerdo a Morales. Con un total de ocho locales Walmart actualmente en Chicago, residentes como Lorena España, de 33 años, encuentra muy conveniente tener una en su propio barrio. "Acostumbraba ir a Cicero, lo que me llevaba mucho tiempo", dijo España, quien también es empleada del local de Back of the Yards. "Ahora, no solo tengo un nuevo empleo aquí, sino que está mucho más cerca de casa y tengo todo lo que necesito".
Conveniencias y opciones son solo dos de las muchas razones por las que Morales y su equipo decidieron construir el concepto 'mercado del barrio'
En comunidades como Back of the Yards, La Villita y Lakeview. "No puedo entrar en muchos detalles sobre el proceso de seleccionar ciertos vecindarios, pero lo que puedo decirles es que estas tiendas están para dar a comunidades desatendidas muchas opciones, desde marcas hispanas para la salud a servicios financieros para nuestros clientes". Entre estos servicios está Site-to-Store, opción gratuita para los clientes que deseen enviar giros a través del Internet por www.walmart.com. Los clientes encuentran también una gran colección de verduras frescas y una farmacia para atender sus necesidades de salud.
Las tiendas Walmart "Neighborhood Market" localizadas en el 1424 W. 47st en Back of the Yards; 2551 W. Cermak Rd., en La Villita y 2844 N. Broadway en Lakeview operarán siete días a la semana, el horario varía según el local. "Esperamos que los clientes vean todo lo que tenemos que ofrecer y prosperar en estas nuevas comunidades", dijo Morales.