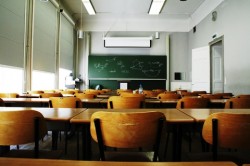 Chicago Public Schools (CPS) Chief Executive Officer (CEO) Barbara Byrd-Bennett is encouraging all members of the community across the District to participate and share their input on addressing the District's school utilization crisis in one of the upcoming school community meetings taking place in the Fulton, Garfield-Humboldt, Fullerton, and Midway Networks. The updated meeting schedule for this week is:
Thursday, February 28, 7 pm: Fullerton Network, Armitage Baptist Church, 2451 N. Kedzie.
Saturday, March 2, 11 am: Midway Network, Daley College, 7500 S. Pulaski Rd.
Monday, March 4, 7 pm: Pilsen-Little Village Network; Arturo Velasquez Institute, 2800 S. Western Ave.
A complete list of upcoming community meetings can be found at www.cps.edu/qualityschools.